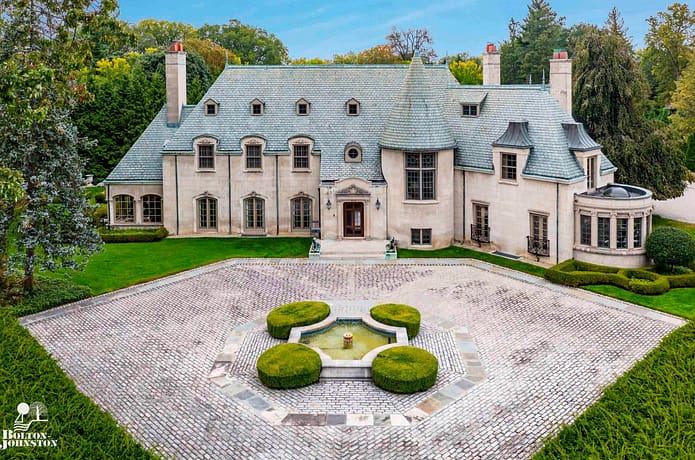 Front Exterior

3-Car Garage

Foyer

Living Room

Living Room

Dining Room

Kitchen

Kitchen

Sunroom

Library

Screened-In Porch

Master Bedroom

Master Bathroom

Rear Exterior

Rear Exterior

Floor Plans

Floor Plans

Floor Plans

Floor Plans

Listed with Janet H. Ridder of Bolton-Johnston Assoc. of G.P.
LOCATION: 273 Ridge Road, Grosse Pointe Farms, Michigan
SQUARE FOOTAGE: 8,408
BEDROOMS & BATHROOMS: 7 bedrooms & 7 bathrooms
PRICE: $4,800,000
This historic French Normandy style limestone home is located at 273 Ridge Road in Grosse Pointe Farms, Michigan and is situated on 2.5 acres of land. 
It was built in 1928 and features approximately 8,408 square feet of living space with 7 bedrooms, 7 bathrooms, foyer with staircase, elevator, formal living & dining rooms, kitchen, sunroom, library, screened-in porch, 3-car garage and more.
Outdoor features include 2 motor courts, patio, water features & gardens.
It is listed at $4,800,000.