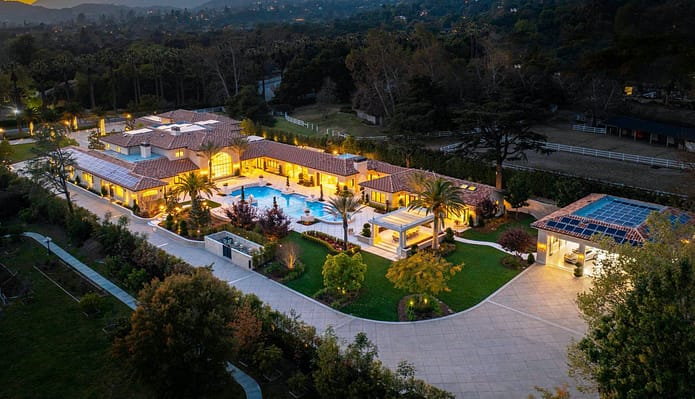 Front Exterior

Front Exterior

Front Exterior

Foyer

Foyer

Great Room

Great Room

Dining Room

Breakfast Room

Kitchen

Kitchen

Family Room

Master Bedroom

Master Closet

Master Bathroom

Master Bathroom

Game Room

Guest House

Gym

Indoor Swim Spa

Pool Room

BBQ

Loggia

Rear Exterior & Pool

Rear Exterior & Pool

Pool

Car Barn

Car Barn

Aerial
LOCATION: 100 Palm Hill Lane, Bradbury, California
SQUARE FOOTAGE: 14,604
BEDROOMS & BATHROOMS: 8 bedrooms & 15 bathrooms
PRICE: $38,500,000 $24,800,000
This newly built 2+ acre estate is located at 100 Palm Hill Lane in Bradbury, California and features a main house, attached guest house and car barn.
It features approximately 14,604 square feet of living space with 8 bedrooms, 9 full and 6 half bathrooms, 2-story foyer with staircase, 2-story great room, formal dining room, kitchen, breakfast room, family room, office & conference room, game room, gym, indoor swim spa, attached garage and more.
Outdoor features include a gated entrance, motor court with fountain, loggia, balconies & patios, kitchen/BBQ and a swimming pool with spa 7 water features.
It is listed at $38,500,000 $24,800,000.