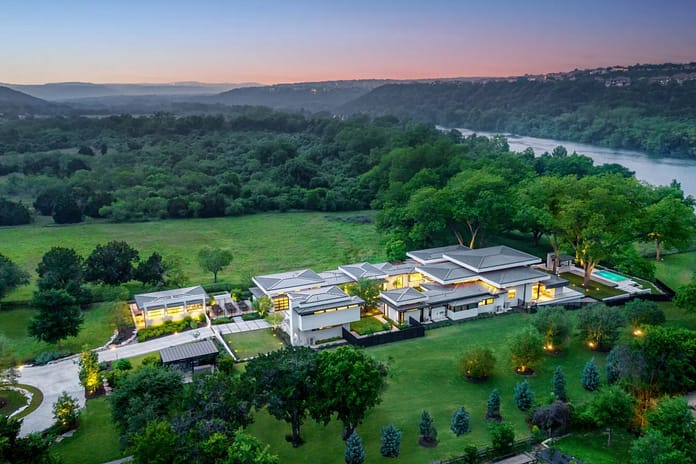 Front Exterior

Front Exterior

Foyer

Great Room

Great Room

Kitchen

Kitchen

Office

Game Room

Wet Bar

Wine Cellar

Master Bedroom

Master Bathroom

Outdoor Living

Outdoor Living

Rear Exterior

Rear Exterior

Rear Exterior

Guest House

Guest House

Guest House

Guest House

Guest House

Guest House

Guest House

Guest House

Dock

Aerial

Listed with Bridget Ramey of  Kuper Sotheby's International Realty
LOCATION: Austin, Texas
SQUARE FOOTAGE: 10,505
BEDROOMS & BATHROOMS: 9 bedrooms & 11 bathrooms
PRICE: $50,000,000
This 6+ acre lakefront estate is located in Austin, Texas and was designed & built by  renowned developer Brett Ames of Ames Design Build.
It features a main house, guest house and 2 additional small detached guest homes. There is over 10,000 square feet of living space with 9 bedrooms & 11 bathrooms.
The main house features a great room, formal dining room, kitchen, game room, wet bar, wine cellar and more.
Outdoor features include a gated entrance, patios/terraces, 2 kitchens/BBQs, 2 fireplaces, 2 infinity pools and a dock.
It is listed at $50,000,000.