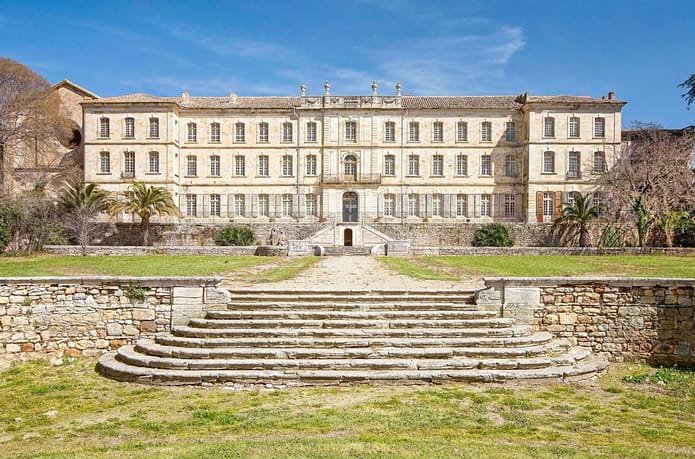 LISTING INFO: 
LOCATION: Pezenas, Languedoc-Roussillon, France
SQUARE FOOTAGE: 66,736
BEDROOMS & BATHROOMS: 15 bedrooms
PRICE: €15,000,000
This historic castle is located in Pezenas, Languedoc-Roussillon, France and is situated on over 81 acres of land.
It features approximately 66,736 square feet of living space with 15 bedrooms. Outdoor features include water features, gardens, vineyard and more.
It's listed at €15,000,000.
From the listing site: 
This magnificent castle has been through historical periods from a powerful royal priory to a sumptuous princely residence. The 6000 sq m castle has large volumes that offer many project opportunities for which you can get State subsidiaries! It is marked by its historical past, the castle shelters a vast Romanesque church from the 12th Century and an abbatial palace from the 18th Century which earned it the name of "Petit Versailles du Languedoc". In 1998, a large part of the ensemble was listed as Historic Monuments. Its church is the largest Romanesque church in Languedoc with an impressive 43 m long vaulted vault, its apse, remodelled in the 16th Century, was converted into a wine cellar after the French Revolution. The estate currently has about 33 hectares of which: The Château and its park of 3 hectares closed walls, a building land of 4 hectares including an old cooperative cellar of nearly 2000 sqm, a vineyard of 16.5 hectares in operation, The land remaining consists of wood and Garrigue. The main body consists of an R + 3 and two wings, additional terraced gardens and many outbuildings. The castle has to be restored entirely and offers a tax exemption.