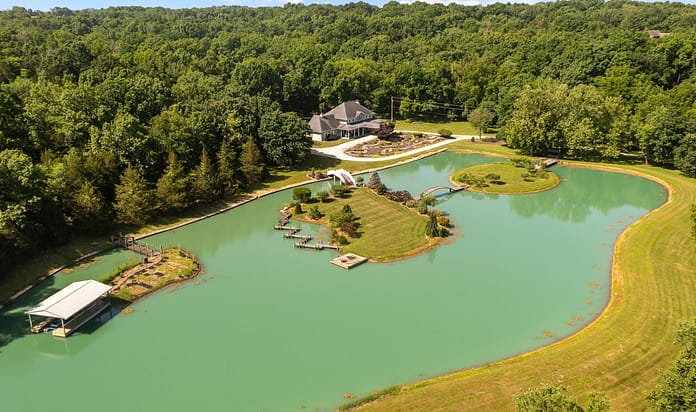 Front Exterior

Front Entry

Foyer

Living Room

Dining Room

Florida Room

Office

Rec Room

Rear Exterior

Barn

Lake

Lake

Dock

Lake

Lake

Lake

Lake

Lake

Listed with Dennis Jordan of House Of Brokers Realty, Inc.
LOCATION: 70 E High Point Lane, Columbia, Missouri
SQUARE FOOTAGE: 7,500
 BEDROOMS & BATHROOMS: 4 bedrooms & 5 bathrooms
PRICE: $1,675,000
This 25 acre estate is located at 70 E High Point Lane in Columbia, Missouri.
The home was built in 2011 and features approximately 7,500 square feet of living space with 4 bedrooms, 5 bathrooms, foyer with staircase, forma living & dining rooms, gourmet kitchen, Florida room, rec room with wet kitchenette, 3-car garage and more.
Outdoor features include a covered bridge, covered front porch, barn and a private lake that features 3 islands, 4 bridges, fruit trees and a covered dock.
It is listed at $1,675,000.