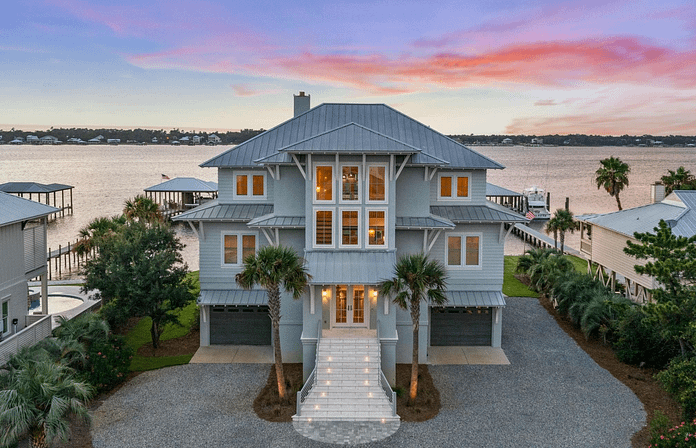 Front Exterior

Staircase

Great Room

Great Room

Great Room

Dining Room

Kitchen

Kitchen

Kitchen

Bedroom

Bathroom

Living/Dining Room

2nd Kitchen

Rear Exterior

Rear Exterior

Rear Exterior

Dock

Listed with George Haughton of Bellator Real Estate & Dev Orange Beach

Photography by Derek Keller Photography
LOCATION: 4029 Hatteras Cove, Orange Beach, Alabama
SQUARE FOOTAGE: 7,013
BEDROOMS & BATHROOMS: 7 bedrooms & 6 bathrooms
PRICE: $5,950,000
This waterfront home is located at 4029 Hatteras Cove in Orange Beach, Alabama and is situated on 1/3 of an acre of land.
It was built in 2020 and features approximately 7,013 square feet of living space with 7 bedrooms, 5 full and 1 half bathrooms, foyer with staircase, elevator, great room, dining room, gourmet kitchen, ground level living area with 2nd kitchen, 2-car garage and more.
Outdoor features include a terrace, patio, saltwater swimming pool with spa and a boat dock.
It is listed at $5,950,000.