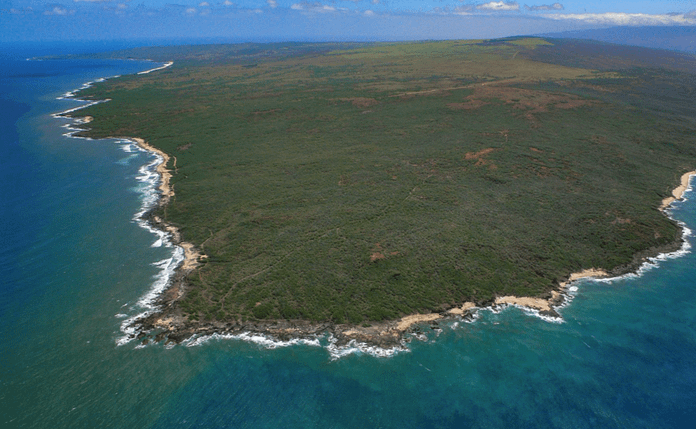 LOCATION: Maunaloa, Molokai Island, Hawaii
SQUARE FOOTAGE: N/A
BEDROOMS & BATHROOMS: N/A
PRICE: $260,000,000
This 55,000 acre ranch, dubbed "Molokai Ranch", comprises 35% of the island of Molokai in Hawaii. 
Based on zoning and permissible land use the acreage is generally classified as follows.
28.924 acres comprising two hotel properties: "The Lodge" at Maunaloa and the oceanfront "Kaluakoi Hotel"
222.327 acres comprising the Kaluakoi Golf Course (currently closed) and the Ironwood Hills Golf Course (currently operated and maintained by a third party on land leased from Molokai Ranch)
176.015 acres of Kaluakoi interior resort land
100.575 acres of Kaluakoi oceanfront resort land
1091.259 acres of additional vacant nterior and oceanfront lots at Kaluakoi Resort
841.959 acres of residential estates at Papohaku Ranch and Kaupoa
48,398.353 acres of West, Central and Southeast Molokai agricultural lands
4,116.740 acres of forested conservation lands
28.825 acres of commercial properties in the vicinity of Kaunakakai Wharf and Kaunakakai Town
84.751 acres of industrial properties at Maunaloa and Kualapu'u
21.502 acres of Maunaloa residential properties
294.992 acres of residential potential urban expansion land
168.666 acres of infill lots, roadways, remnant lots, utilities, greenbelts and parks.
Total: 55,574.888 acres
It is listed at $260,000,000.
*Thanks to Leland for the tip!