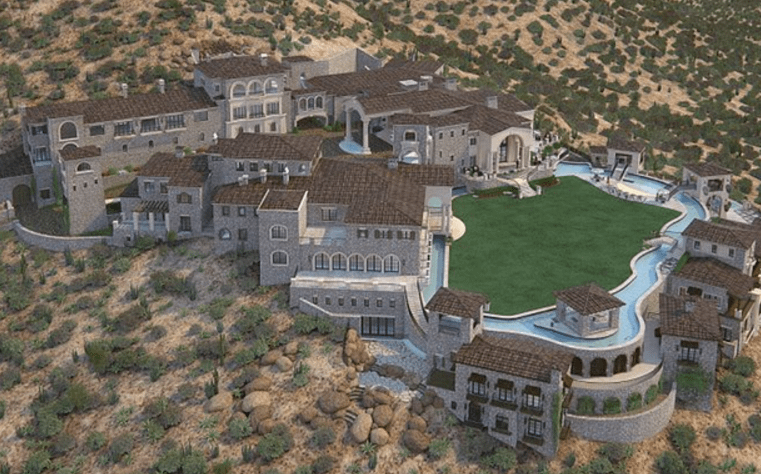 [divide]
This 100,000 square foot unfinished mega mansion is located in Scottsdale, AZ. Tech Entrepreneur Jason Hope started building the compound over 5 years ago but construction stopped in 2011 and after he faced legal issues.
It went on the market in 2014 for $14,975,000 as-is or $40,000,000 completed. It just sold for $5 million to Idaho developer Michael Matzek who plans to rent it out once he completes it. Once completed it will be the largest single family home in Arizona and one of the Top 5 largest in America.
The home was designed by Peterson Architecture & Associates and is located at 21624 North 113th Way in Silverleaf, the most exclusive 24-hour gated community in Scottsdale, AZ. It will resemble both a Mediterranean castle and Italian hillside village and feature 69,823 square feet of living space. The 'smart house' will boast 14 bedrooms, 20 bathrooms, n indoor bowling alley, indoor basketball court, indoor swimming pool, wine cellar, underground caves, secret passages, staff quarters, the first residential IMAX movie theater, multiple interior garages, zip lines across courtyards from one part of the house to another, multiple pool complexes with waterfalls, hidden grottos, a lazy river and a three-story night club.
CLICK HERE FOR OUR PREVIOUS POST ON THE HOME