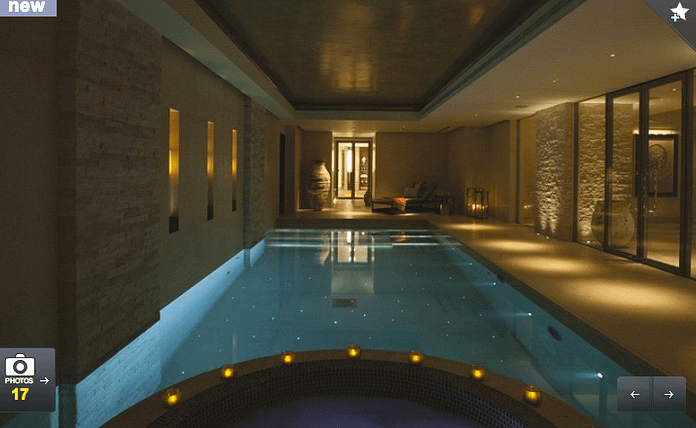 Location: Walton Street, London, England
Square Footage: 11,505
Bedrooms & Bathrooms: 7 bedrooms & 7+ bathrooms
Price: N/A (most likely around $50 million or so)
We first blogged about this home back in April when it was unofficially on the market; well it is now OFFICIALLY on the market and with more pics!
St Saviours is a church that was converted into an opulent mansion and is located on Walton Street in London, England.It was originally designed by Belgrave Square architect George Basevi in 1838. The Diocese of London sold most of St Saviours a while back for about £1 million. After that, only a small section of the church was still used for worship. The rest was bought by developers who turned it into a 4-story home that was owned for six years by Les Misérables and Miss Saigon writer Alain Boublil. He sold it for £13.5 million in 2009 to a Thai businessman who commissioned a second makeover costing an estimated £10 million and lasting almost three years.
It features approximately 11,505 square feet of living space with 7 bedrooms, 7+ bathrooms,  bronze and glass elevator, spiral stone staircase, open concept living/dining area with 42 foot vaulted ceiling, 2 gourmet kitchens, gym, home theater, juice bar, glass enclosed spa with sauna and steam room and a 30 foot indoor swimming pool with hot tub.