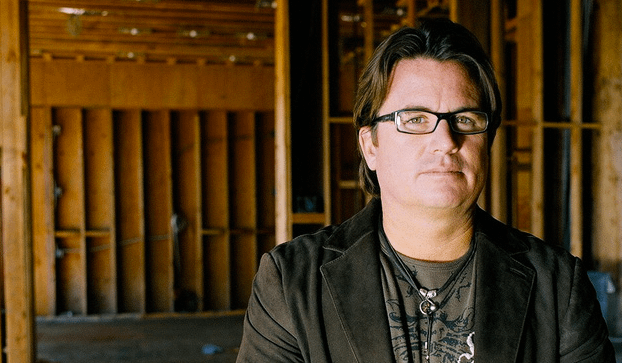 Renowned luxury home builder John Finton, of Finton Construction, was kind enough to answer some of your questions! Check them out below!
1. Based on your past work, which features a whole bunch of French Chateau designs, is it safe to say that your favorite architectural design is the Chateau? What do you think of Georgian and Italian Villa designs, which are my favorite?
I typically do French Chateau styles because that is what the client asked for. My favorite style of home is simply one well done architecture. Personally, though, I prefer more contemporary homes. As far as your favorites, I prefer Italian Villas over Georgian architecture, although each has its place. I feel its odd when someone builds an Italian villa among a bunch Georgian buildings. (Photo 1 – A contemporary home by Finton)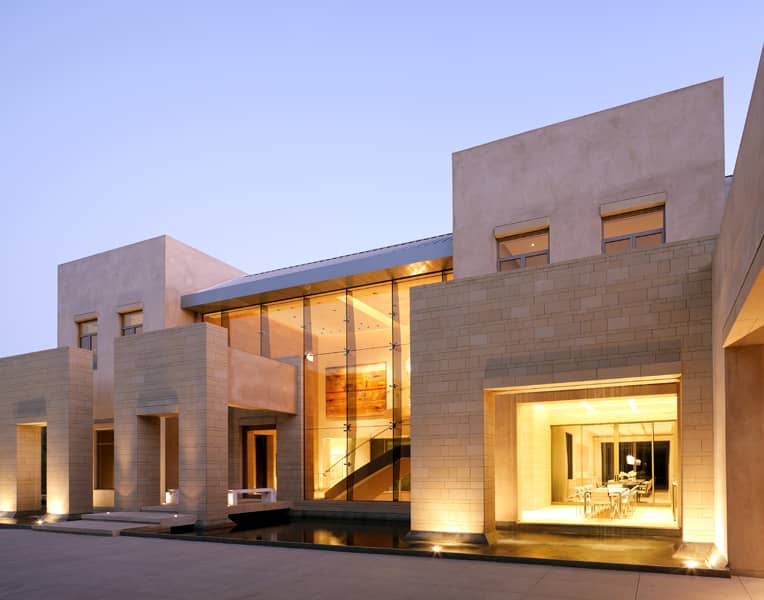 2. Working with such an eclectic array of customers and consequently personalities probably means you have seen some odd requests in terms of home features. What is the oddest, most eye-opening or most memorable feature(s) you have included in any of your homes?
A home school for the client's children. And I'm not talking a child-themed office… it was its own 2,000 sq. ft. building.
3. Is there a home or project that you yearn to one day do, or what is the one mansion you really want to do? (in terms of design, size, location, amenities)
Not really. My main goal when it comes to building is to realize the client's vision. But I would love to work with John Poulson or Robert A. M. Stern on a project.
4. Has there ever been a request for a structural feature or design element that you simply couldn't or wouldn't honor? If so, what would that be and why did it get turned down?
Sometimes the features a client wants have to be modified to meet building standards. Other than the need to comply with building codes, I can't think of any reason I wouldn't honor a request for a feature.
5. What are the trends that your clients are requesting, mainly, or is each project distinct to the individual?
The projects I do are DEFINITELY unique to each client. I think I've built homes in every possible home style. Indoor spas are big right now, though, as far as trends in luxury homes go. People want massage rooms, indoor jacuzzis, and that kind of thing, so they have a space that looks like a luxury hotel wellness spa (Photo 2)
6. By what process do you find your exceptional craftsmen, and more importantly, how do you measure them to ensure they meet and exceed your (and your client's) standards?
I have been working with most of our craftsmen for decades. Occasionally we'll find a new person through other architects and designers that we work with. We are very careful about picking craftsmen though – they have to be recommended by someone I trust and I have to see their past work to appreciate their skill.
7. What is the construction cost per square foot of a typical high quality John Finton home?
$500-800 per square foot, depending on site conditions.
8. Where does the typical customer get a sense of what they want? Does celebrity X say "I want my house to look like celebrity Y's house"? Do they come in with copies of Architectural Digest? Photographs on their smartphones of various houses in the Holmby Hills?
Yes, I get lots of photos from people during the creative process, from magazines or online. We are rarely, if ever, trying to copycat another house, though… the pictures are just for inspiration. If we do look at another client's house, it's to get a sense of the quality of some elements or things like finishes, etc. So, though I would never be interested in copying another home for someone, I've never been asked to either.
9. How much of the fittings in Finton houses are bespoke? Does your team make custom door handles, hinges, door/drawer pulls, etc, or is it common practice to use off-the-shelf (albeit high end) fittings?
Almost the entire house is bespoke. Close to nothing in my homes is off the shelf.
10. Do you ever question the wisdom of building houses that are far too big for the average sized family to ever truly use? Do you ever wonder about the true need for such houses? Do you ever counsel smaller is better, or do you just build what your customers are asking for?
We build what clients ask for. I'm not one to make a judgment call about someone else's lifestyle, although it can be easy to do when they live such a different life. But I think it is very presumptuous to impose my lifestyle and opinions on a client. I think there are many reasons – valid reasons – for someone to build a large home.
11. How did you get your start as a builder?
I have had my contractor's license since I was 21. I worked in construction through high school and paid my way through college by building my business. I once even rebuilt my college dean's roof in lieu of a Senior thesis project. Later, Finton Associates, as I called it then, was a summer job when I was a ski instructor. Eventually I realized that building would be my career and gave up the life of a ski bum.
12. What's the largest home you've ever done (completed or in the works)?
The largest home I've ever done is one that I am working on now in Bel Air. It is going to be 70,000 sq. feet and it is almost finished now. (Photo 3 – This French Normandy Style home is one of Finton's largest projects, at about 42,000 sq. ft.)
13. Have you or would you turn down building a home for someone? Why?
I've never turned down a project. The only reasons I would turn down a project would be if their expectations didn't meet their budget, and/or if they were mean-spirited, uncooperative clients.
14. If you could live in any of your client's houses, which would you choose?
The A. Quincy Jones house I remodeled that Jennifer Aniston just bought. (Photo 4)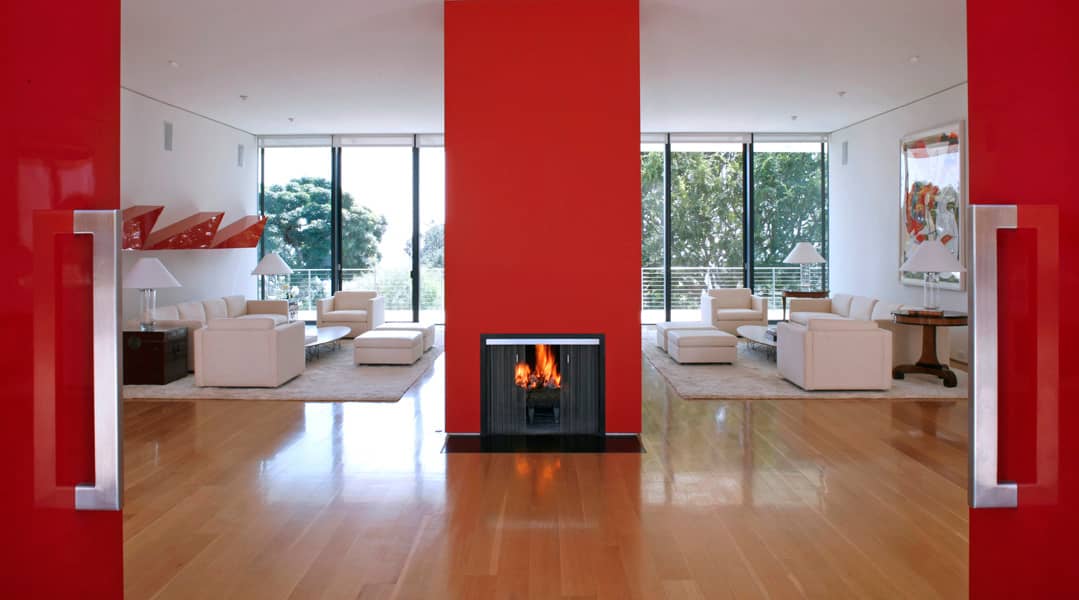 15. What's your favorite American residence extant or demolished?
Don't have one favorite, I like a lot of different homes!
16. How would you suggest someone wanting to become a builder get into the industry? What is the best way to gain knowledge of quality home building?
You have to gain knowledge through many, many years of experience. I would say, work for someone you aspire to be in the building industry. There's no shortcutting 25 years of experience, so your best bet is to work for someone exceptional and make your passion for building clear. Also, I would say to always be intuitive of your client's wants and needs, while keeping your eye to the future of the industry.
17. Any final words for the readers?
To be honest… my favorite project is the one I haven't done yet. I love a new challenge and a new project. I've been lucky enough to work with amazing people who understand the creative process.  Each family and each home presents its own set of unique challenges, and this is what inspires me.
Thank you all so much for your questions!
To see more of Finton Construction's work, visit www.finton.com and "Like" us on Facebook.