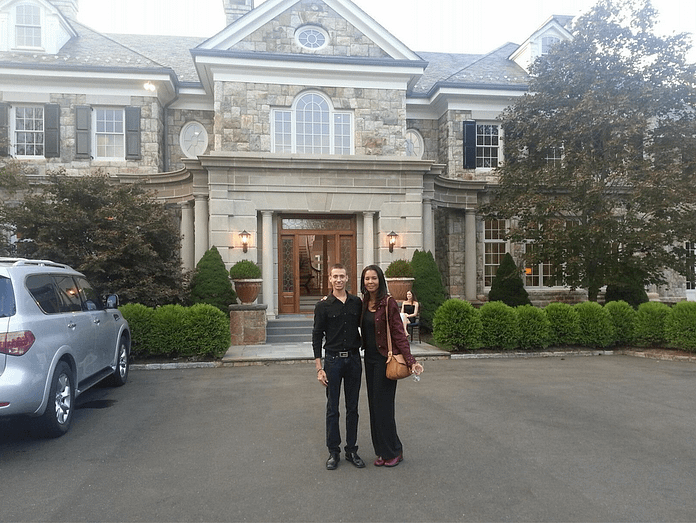 (there are pics I took mixed in with the professional pics)
Yesterday I had the pleasure of touring the beautiful Lake Carrington estate located at 11 Langhorne Lane in Greenwich, CT. The home was designed by Boris Baranovich and built by Antares Development back in 2007 as what is known as a "couture ready" mansion in which the potential buyer has full control on what they want to do with the interior. It is situated on 9 acres and boasts a lake with fishing hut.
The mansion spans over 30,000 square feet of living space. Here's the breakdown:
1st floor – 7,835 sq.ft
2nd floor – 9,195 sq.ft
3rd floor – 2,766 sq.ft
Lower Level – 9,600 sq.ft
Garage – 1,980 sq.ft
As you walk past the gated entrance, you are struck by the stately brick exterior of the Georgian Colonial mansion. There is a large motor court and a lighted porte cochere to the left that leads to the garages (a 2-car garage and 4-car garage) with ample parking space. As you walk past the Mahogany doors, you are greeted by a large foyer. The whole 1st floor has extensive paneled walls (millwork) and multiple hidden doors that blend seamlessly with the walls. The massive main hallways is over 100 feet long and the ceilings are all 12′ making for a much more grander feel throughout. The foyer features a fireplace and an elegant y-shaped staircase. To the right of the foyer is the step-down formal living room with large fireplace. Beyond that is the spacious wood paneled library/office with fireplace and wet bar. To the left of the foyer is where there main hallway begins. Off this hallway are dual powder rooms for guests, formal dining room, exceptional gourmet kitchen with top-of-the-line appliances, cater's kitchen, breakfast room, step-down family room with fireplace and a sunroom.
As you ascend the grand staircase (or you can use the 2 secondary staircases), you are greeted by a large landing with an opening to the foyer. The master suite is to the left. You first walk into the sitting room and then walk down a long hallway that features custom built-ins. There is a massive women's closet and a smaller men's closet. There also his-and-hers bathrooms, with hers featuring a soaking tub and huge custom shower. There are also 5 additional bedroom suites, a large playroom and a staff apartment with 2 bedrooms and a kitchen.
The 3rd floor features two large unfinished rooms.
The lower level features a sports court (not completed yet), a proposed wine cellar and home theater, lounging areas, gym, a spa room, multiple utility rooms and a 45′ long indoor lap pool.
Overall, there are 8 bedrooms, 17 bathrooms, 3 staircases, 8 fireplaces and 4 laundry rooms.
It was originally listed in 2008 for $28,000,000. It was then re-listed in July of 2009 at $14,500,000. It is now being offered at $23,000,000.