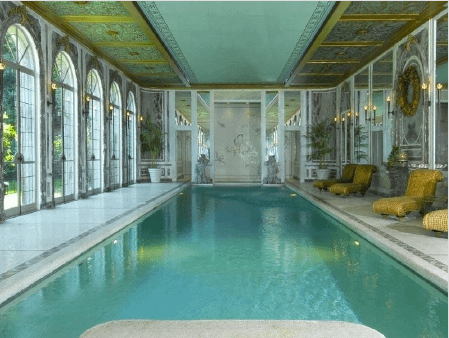 Homes of the Rich was invited to tour two gorgeous mega mansions located in Connecticut next Tuesday. Two of our readers, Laquayva and Brandt, will be coming along! We're super excited and can't wait. We'll be sure to take lots of pictures to share with you guys!
First up is the Lake Carrington estate located at 11 Langhorne Lane in Greenwich, CT. The home was designed by Boris Baranovich and built by Antares Development back in 2007 as what is known as a "couture ready" mansion in which the potential buyer has full control on what they want to do with the interior. However, they finally decided to go ahead and finish the interior themselves a few years later. The estate spans over 26,000 square feet of living space with 7 bedrooms, 8 full and 9 half bathrooms, 3 family rooms, home theater, 20,000 bottle wine cellar with tasting room, indoor racquetball/basketball court, 2 elevators, 36 foot long indoor lap pool and much more. It is situated on 9 acres and boasts a lake. It was originally listed in 2008 for $28,000,000. It was then re-listed in July of 2009 at $14,500,000. It is now being offered at $23,000,000.
The 2nd home that we are going to tour is the Hillandale Estate. The 263-acre property is located on the Connecticut-New York border has five homes, a chapel, a private lake, an authentic tepee and five miles of roads. It is owned by Liberty Travel co-founder Gilbert Haroche and his wife who purchased the property for just $6.7 million. The main house is over 20,000 square feet and has eight bedrooms and an indoor swimming pool. It was on the market way back in 2007 for a whopping $95,000,000, but was taken off and never put back on.