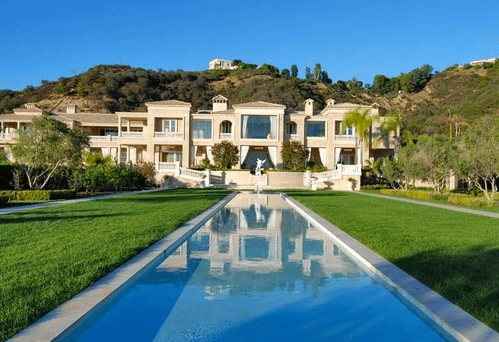 #1 – Rapper Drake has purchased a Hidden Hills, CA compound for $7.7 million. Drake was renting it for a few months before purchasing it. It first went on the market back in 2009 for a whopping $27 million. Drake got quite the deal!
#2 – This contemporary home, dubbed The Razor, is located in Markham, Toronto, Canada. It was designed by Abramson Teiger. It is owned by one of the founders of Winfax allegedly, and was featured in Architectural Digest.
*Thanks to HOTR reader Josh for the tip
#3 – This gorgeous Federal style mansion is located in Alexandria, VA and listed at $5,500,000.
*Thanks to HOTR reader Benjamin for the tip
#4 – Filthy rich Sub-prime mortgage billionaire Jeff Greene (worth $2.1 billion) is supposedly putting his Beverly Hills, CA mega estate on the market for a whopping $150,000,000. The 50,000 square foot mansion is located on Lania Lane and situated on 25 acres. Dubbed Palazzo di Amore, the home features a 25-car detached garage. Jeff bought it in early 2007 for around $35,000,000 and spent around $15,000,000 finishing it up. It was last up for rent at at $250,000 per month (short term) and $150,000 per month (long term).