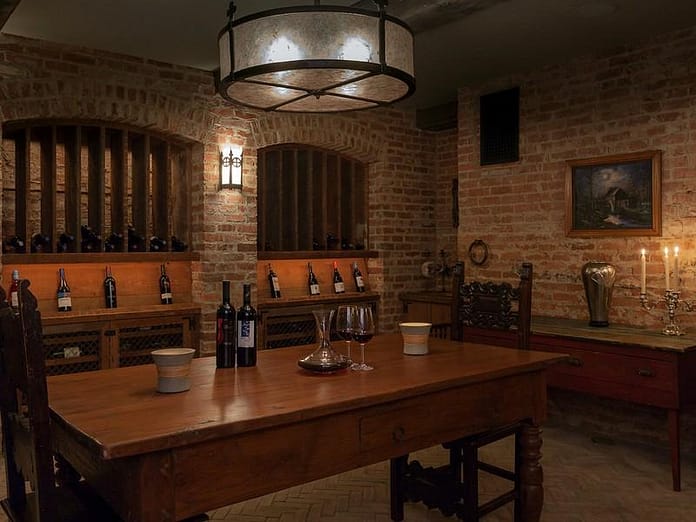 Phillips Foods and Seafood Restaurants Inc. CEO Steve Phillips has hauled his 23-acre estate onto the market for $32,000,000. Dubbed, The Friary on the Severn", the estate is located off of N Winchester Road in Annapolis, MD and features a main house, Asian tea house, 3 bed/2 bath guest house, 60-foot infinity edge swimming pool, pool pavilion, tennis court and a six-slip private boat dock. The Georgian style mansion boasts 26,000 square feet of living space with 7 bedrooms, 8 bathrooms, 11 fireplaces, formal living and dining rooms, library, gourmet kitchen, family room, catering kitchen, wine cellar, game room, conservatory, ballroom, work shop, secret vault, indoor swimming pool and spa, rooftop garden and a 9-car garage.
Excerpt on the history of the home :
Built in 1922 (by an arms dealer who ostensibly concealed illegal weapons in a hidden basement passageway), the property changed hands several times before the Catholic Church purchased it in the 1940s and converted it into St. Conrad Friary, which at its peak housed more than 60 Capuchin monks. Thirty years later, the monks' numbers had dwindled and the house—then complete with a medieval-style chapel and a boxy five-story dormitory—was sold. Over the next 30 years it remained largely empty, an intimidatingly massive and dilapidated structure that caused prospective buyers to run the other way.
CLICK HERE FOR ANOTHER ARTICLE