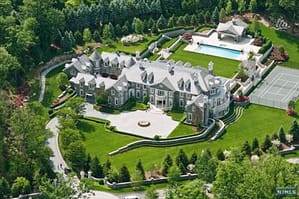 The grand 30,000 square foot Stone Mansion estate, located in ritzy Alpine, NJ, has upped its asking price yet again. Listed back in June of 2010 for a whopping $68 million, the lavish gated mega-mansion boasts 12 bedrooms, 14 full and 5 half bathrooms, 3 kitchens, 4 bars, a home theater, wine cellar, indoor basketball court, swimming pool, tennis court and much more.
The asking price then dropped to $52 million in July of this year. A couple of months later it inched up to $53 million. Now the asking price has been bumped up yet again to $56 million.
I'm not sure what the marketing plan is for this home, but I do know that going up in price in this economy just doesn't make sense; especially for a home that's already overpriced.