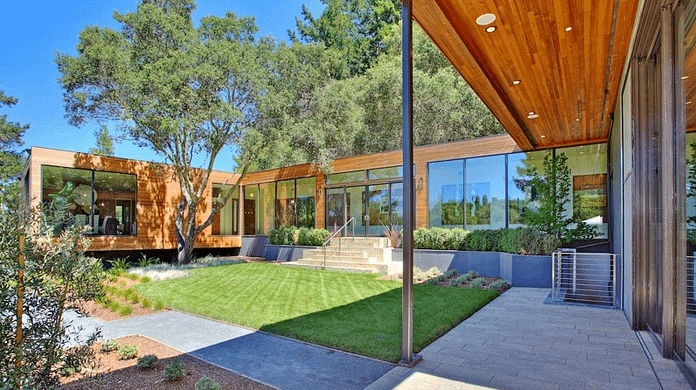 This newly built contemporary home is located at 11885 Francemont Drive in Los Altos Hills, CA. It is situated on close to 7 landscaped acres and boasts 5,600 square feet of living space with 5 bedrooms and 6 bathrooms. It is listed at $4,995,000.
HERE ARE THE LISTING DETAILS:
With sleek architectural lines and a presentation of balanced symmetry, this just-completed home portrays the ultimate in contemporary style. Built with the utmost respect for the preservation of our natural resources, the home boasts a GreenPoint rating of almost 200, one of the highest in Los Altos Hills. Starting with a living roof visible from the master suite on the upper-most level, the eco-friendly construction continues throughout. Modern expressions of style and artistry appear at every turn with massive walls dedicated to art, towering ceiling heights, and cable-strung railings on a suspended staircase that creates a focal point of functional beauty. Lighting fixtures stand alone as pieces of art while entire walls of uninterrupted glass provide a captivating interplay between the structure and the surrounding 7 acres. All the while, fine white oak floors seamlessly tie every room together in quiet harmony.

Whether accommodating intimate gatherings, grand celebrations, or overnight guests, the home is arranged for every need. Chefs will revel in the epicurean kitchen that easily allows mingling with guests, patrons of the arts will wander freely as if strolling in a museum of modern art, and friends and family will gather in one of two central rooms at opposite ends of the home connected by the lush garden courtyard. Personal retreats, comprised of 5 bedrooms each with its own terrace, are positioned for the utmost in privacy and luxury.