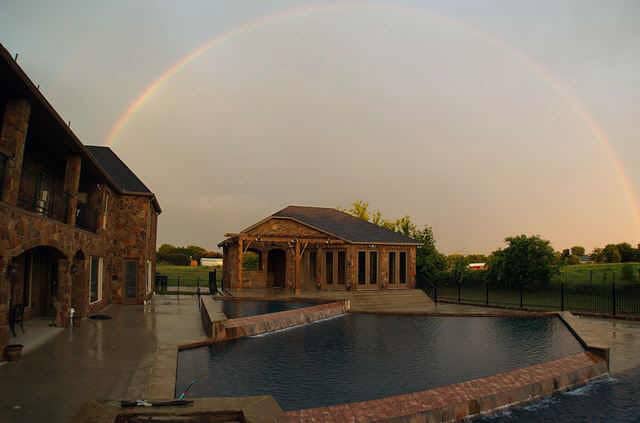 This post is brought to you by John Burgdorf from North Texas Luxury
This incredible Ranch estate in none-other-than Colleyville, Texas is simply a paradise. With panoramic views of green Texas pastures, I'm surprised this estate hasn't already been sold!
With a landscaped front gated entry, a stained driveway leads up to the residence. The drive up is fantastic with views of the rolling countryside and a full view of the home. Passing a private lake surrounded by barely wooded grounds, the driveway splits into a circular path with roads to either side of the parking areas – 6 total garage bays. A perfect amount of landscaping around the immediate residence allow a clear view of the front of the house. Around back, the estate boasts a 3 part, and odd looking, swimming pool, large loggia, second floor balcony overlooking pool/outdoor activities, and cabana attached to two bedroom guesthouse. The total acreage spans 4.65 acres.
The interior is no different. With a calm and homely Western/Ranch touch, all interior amenities boast fine living. The key features include 9 bedrooms and 9 bathrooms with a master suite. A dual staircase foyer gives way to a formal living den with fireplace. Other interior amenities include a large gameroom upstairs, exquisite master suite, 8 seat media room, formal dining room, gourmet kitchen, and 12,826 sq. feet of living space. Truly a Texas estate!
The estate can be found at 405 John McCain Road, unknown if the former presidential candidate had anything to do with the naming of the street. It is listed for $2,999,999.