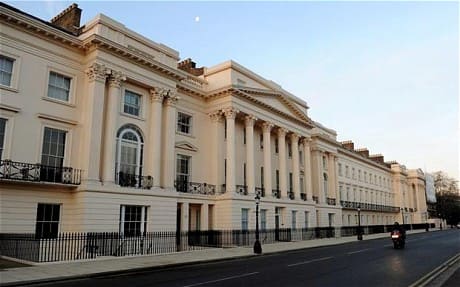 This is Cornwall Terrace , which is located in Regent's Park in London, England. It consists of eight double-fronted mansions each with an asking price of between £29m and £60m. The whole row of homes is up for sale for a mind blowing collective £400 million ($627,120,000)!!!!!
But despite the sky high price and having to pay up to £2.5m in stamp duty – Cornwall Terrace is in the City of Westminster – where residents pay the capital's second lowest council tax bill.

The terrace was designed by Royal architect Sir John Nash as part of the Prince Regent's – later King George IV – plans for the 19th century masterpiece Regent's Park.

Overlooking the park's rowing lake, Cornwall Terrace's double-fronted mansions belonged to the British nobility for 150 years before being occupied by commercial concerns.

Developers Oakmayne purchased the terrace two-and-a-half years ago and employed a group of renowned interior designers, supervised by English Heritage and The Crown Estate, to give the properties a tasteful makeover.

Each home took 83,000 man-hours to create with one whole year alone spent hand-digging two-metres beneath the original basement to create two extra floors.

The first two properties have come onto the market with a price-tag of £29m and £39m respectively.

But the remaining six properties will be marketed next year with one unidentified mansion expected to cost a staggering £60m.

Prospective clients have even enquired about the possibility of purchasing two properties and turning them into a deluxe single £100m dwelling.

Ranging from 8,000 to 14,000 square feet, the Grade I-listed mansions have between five and seven bedrooms and combine London's rich architectural heritage with state-of-the-art technology.

The main entrance room of each property is described as being of "embassy proportions" while each master bedroom is "the size of your average apartment".

All properties have oiled and polished hardwood floors and doors, handcrafted Italian marble floors alongside period fireplaces, cornices and other decorative detailing.

They also boast a silent hydraulic elevator and multi-room iPad-controllable audiovisual and lighting systems.

Each property is offered with an accompanying two-bedroom mews for staff and a "Bentley-sized garage" while each mansion benefits from a spa and gym.

The largest property – to be sold next year – also boasts a ball room and swimming pool complex.