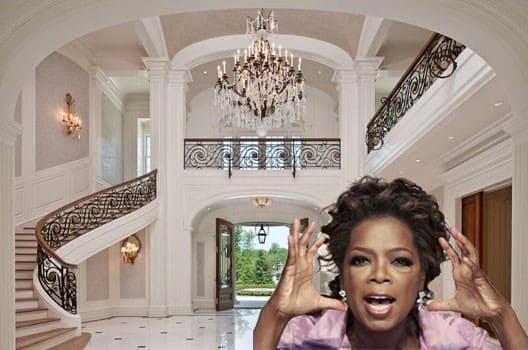 Media Mogul Oprah Winfrey took a tour of Richard Kurtz's $68 million mansion, dubbed Stone Mansion, in Alpine, NJ yesterday. Uh oh!!! There goes the neighborhood! HA! I Can you say conspicuous consumption? But hey, who am I to judge. She already owns a $50 mansion in Montecito and countless other properties across the country, so why not purchase one of the most expensive homes on the market in one of the most expensive zip codes in America!
Oprah Winfrey is eyeing a new house in the New Jersey area, the New York Post reported Thursday.

The TV titan — whose new network is slated to launch in Los Angeles next year — quietly slipped into town Wednesday for a house-hunting expedition along the banks of the Hudson, sources said.

Among the homes on her must-see list was a $68 million mansion on the sprawling grounds of the old Frick estate in Alpine, NJ, the sources said.

Oprah's three-car convoy, including two black SUVs and a van, pulled into the ritzy enclave before noon Wednesday, a source said.

Workers and others on the grounds were asked to make themselves scarce while Oprah checked out the five-story, 19-bedroom and 12-bathroom spread, according to one source.

"Her people requested that everyone leave the house so it would be empty when she walked through," the source said.