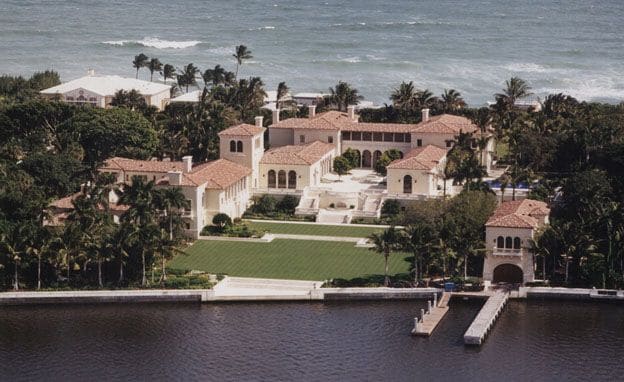 Bridges, Marsh & Associates is an architectural firm that has designed some pretty impressive mansions in South Florida. HOTR reader Daniel brought them to my attention.
HERE IS WHAT HE HAD TO SAY:
Some of my dreams have been fulfilled, as Bridges, Marsh & Associates (formerly Bridges, Marsh & Carmo) *finally* have a website. They have designed some of Palm Beach's most fantastic (and equally huge) homes. Details for the top three below.
1) Il Palmetto. Owned by Jim Clark (founder of Netscape). Located at 1500 S. Ocean Blvd. 68,381 total sq. ft (gross total including beach house and boat house), 40,916 a/c sq ft (main house only). Also designed in conjunction with Fairfax and Sammons. This is the 2nd largest home in Palm Beach. Truly amazing. 5.50 acres of ocean-to-intracoastal views.
http://www.bridgesmarsharchitects.com/project_details.php?CategoryID=1&ProjectID=1
http://www.fairfaxandsammons.com/traditional-residential-architecture-seaside/renaissance-revival-estate-palm-beach-florida
2) 974 S. Ocean Blvd. Owned by Bill Koch (Brother of David Koch, who is worth $17 billion+; Bill is worth around $2 billion+). 3.90 acres of ocean-to-intracoastal frontage. Main house is 42,196 total sq. ft, 20,543 a/c. Including the beach house, total square footage is 48,197 sq. ft.

http://www.bridgesmarsharchitects.com/project_details.php?CategoryID=1&ProjectID=2
3) Villa Delfino, located at 1574 S. Ocean Blvd.This is one of my top 5 dream homes in Florida.Owned by Martin and Audrey Gruss. 3.89 acres of ocean-to-intracoastal views. 26,576total sq. ft., 15,573 a/c sq ft.

http://www.bridgesmarsharchitects.com/project_details.php?CategoryID=1&ProjectID=5