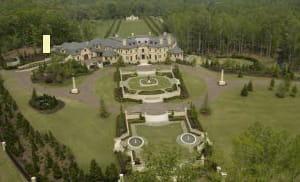 1. The asking price for Le Reve, the 47,000 square foot mega mansion located in Cumming, GA, has been reduced once again. It was listed back in January of this year for $28,000,000 and then was reduced to $25,000,000 just recently. Well, the estate has just been reduced once again, this time carrying an asking price of $21,000,000. I think it's a very wise move and there will be a lot more interested buyers now that the price is substantially lower (it was originally priced at $45 million back in 2008!)
2. Champ d'Or, the 48,000 square foot (36,000 in some reports) French inspired mega mansion located in Hickory Creek, TX, has a new website. While the other website, http://www.champdorestate.com/ still exists, there is another one ( http://www.champdor.net/index.html ) that boasts pictures of the other 2 properties that are included in the new asking price.
3. Beyond Villa, the 65,000 square foot mega beach house owned by California Fitness founder Eric Levine, has been sold for a reported $24,000,000 to an unidentified Russian buyer (figures). The oceanfront property is located on Natai Beach in Thailand's southern Phang Nga province (Phuket). It had been on the market for several years and was initially listed at around $27.5 million.