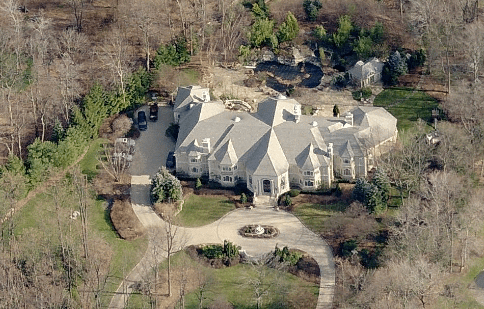 Hip Hop mogul Russell Simmons and his ex-wife Kimora Lee have finally sold their insanely lavish 35,000 square foot mega-mansion located at 101 Fox Hedge Road in ritzy Saddle River, NJ. They signed a contract to sell the sprawling mansion for close to its asking price of $13,900,000. If  you didn't already know, Russell purchased the home back in 2001 from clothing mogul Arnold Simon, who built the home in 1996.
Russell first put the home on the market for a cool $23.8 million over 2 years ago. The price then dropped to $19.88 million, then to $16.5 million, and then to it's final listing price of $13.9 million.
The 35,000 square foot home is situated on nearly 4 acres of land and boasts 10 bedrooms, 8 full baths and 3 half-baths, grand floating double bridal staircase, formal dining room with gold leaf ceiling and five hand-painted murals, mahogany formal living room, library and smoking room, 1500 square foot great room with 35-foot-high ceilings and a 20-foot-long marble hearth, a 100-foot-long gallery (hallway), 3 kitchens,"Versace" room with a bed designed by late fashion designer Gianni Versace, movie theater with a marquee and wax ticket taker, a candy room and popcorn machine, a home gym, a meditation room, and a 12-by-24-foot indoor swimming pool. The immaculately landscaped grounds contain a 30-by-70-foot lagoon-style outdoor swimming pool, cabana, his-and-hers bathrooms, bar, waterfalls, bamboo and plum trees, decorative koi pond, and fountains.
CLICK HERE TO READ THE ARTICLE