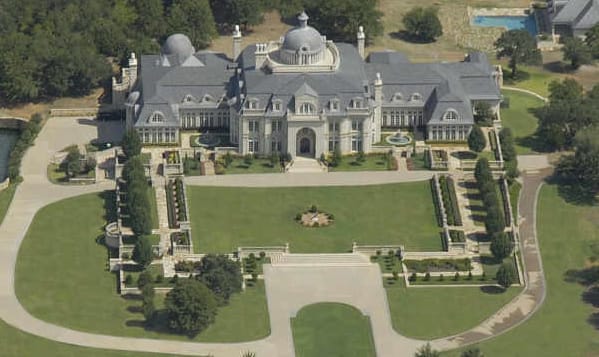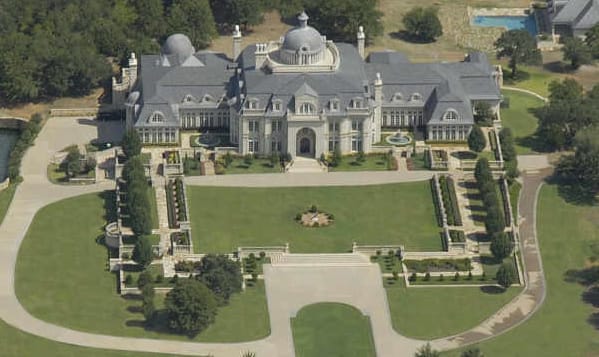 The home, which is located at 1851 Turbeville Road in Hickory Creek, is owned by Shirley and Alan Goldfield. Champ d'Or was born out of five years of meticulous planning,construction, and craftsmanship using materials from all over the nation. The estate boasts a 36,000 square foot mansion, an adjacent one-and-a-half-acre lake, formal gardens, indoor and outdoor swimming pools, a tennis court, a pool/tennis house and two matching guardhouses. The sprawling house features a dome with a ceiling height of 78 feet, elaborate 3-story entry foyer with grand staircase, 6 bedrooms, 10 bathrooms, ballroom with mirrors patterned after Versailles, a garden room where windows descend electronically, veranda which seats 450 for dinner, a two-story Chanel-styled closet in the master, a 2-tier home theater, a bowling alley, and a racquetball court.
Included in the $69.9 million asking price is a 16,000 sq ft contemporary house that sits on 140 acres, 12,000 sq ft guest house that sits on 116 acres, a log cabin, horse facility, private lakes, pools, pool house, sunken tennis courts and gorgeous flower gardens.
Wow, this home sure has went through a roller coaster of asking prices! Built in 2002, the home first went on the market with an asking price of $48 million over 6 years ago. Then the price went to $35 million, then to $59.55 million, then to $72 million, then to $65.5 million, then to $27.5 million, and now to its current price of $69,900,000. That is a $42.4 Million price increase!! Why in the world would they do such a thing?