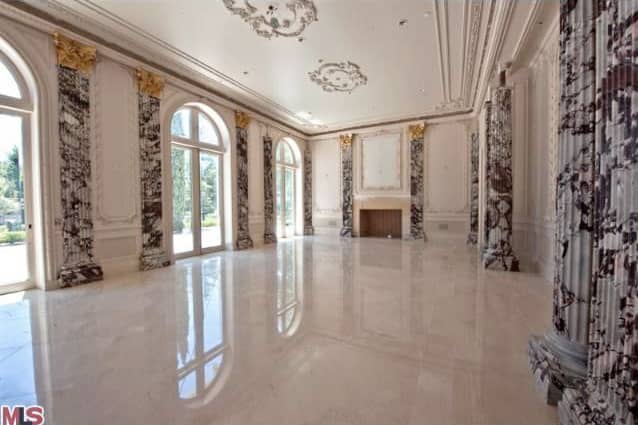 Holy Moly!!!!!!!! We just saw Richard Kurtz's $68 million Alpine, NJ mansion hit the market for a mind numbing $68,000,000. Well, another massive mega-mansion has hit the market with a similar asking price – $68,500,000!! Two $68 million mega-mansions up for sale in one week; I guess the economy isn't slowing EVERYBODY down! The 36,000 square foot mansion is located at 9577 Sunset Blvd in Beverly Hills, CA. It just finished completion and boasts 9 bedrooms and 13 bathrooms.
The owner of the home is C. Frederick Wehba Sr. He is the founder of Bentley Forbes, a national real estate investment firm. I guess he, like all other mega-mansion owners, put the home up for sale because it is just too big for him and his family.
The Beaux-Arts style mansion was designed by Biglin Architectural Group. The home has stone floors, 24k gold door and window hardware, a massive marble foyer with grand double marble staircase, an elevator, a home gym with spa, two full kitchens, five coffee bars, seven fireplaces, a huge music room, subterranean parking, a tennis court, and a swimming pool with pool house.
The home has 2 listing agents; Joyce Rey and Mauricio Umansky (Hilton & Hyland)
* There is also another huge mega-mansion right next door that is nearing completion.
HERE ARE THE LISTING DETAILS:
The epitome of European elegance with over 36,000 square feet of exquisite designs with hand painted detailing & state of the art electronics. Commercial level systems, exceptional new construction on nearly two acres of unparalleled quality. Delicate hand carved imported limestone exterior, onyx marbles, marble columns, antique mirrors, exceptional French moldings with 24karat gilt, bronze beveled double paned windows & doors. Fabulous master suite with huge dressing areas, luxurious baths & separate sitting rooms. Tournament play tennis court, expansive pool pavilion entertaining area with beautiful gardens. Opulent two story circular entry with a magnificent skylight. An entertainer's paradise, extraordinary scale. No expense has been spared in this famed 3 level French Palladian residential estate. Shown to pre qualified clients only.
CLICK HERE TO SEE PICTURES OF THE HOME UNDER CONSTRUCTION