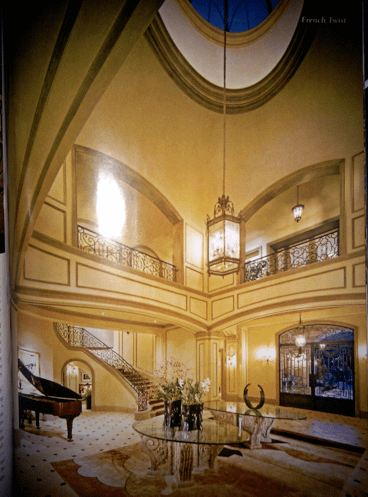 This French Normandy masterpiece was recently named Robb Report's Ultimate Home of 2010. If you don't already know, this 42,000 square foot behemoth is located in the exclusive gated community of Beverly Park in Los Angeles, CA. It was designed by architect Richard Landy (one of the best around!) and built by renowned Finton Construction. The home took 3-1/2 years to complete, which is a relatively short time for a home of this size and quality. It truly is one the best built homes I've ever seen. The interior is so elegantly done and the exterior stonework is just magnificent. It has so much warmth and charm to it and is not something you would expect to see in a home of this stature.
The owner, Alec Gores, is an American businessman who made his fortune through leveraged buyouts of technology firms. His net worth was estimated at $1.5 billion in 2008 and his brother Tom is also a billionaire (worth $2.2 billion). Must be nice!
The first floor of the home boasts a foyer with dome and second floor wraparound balcony, formal dining and living rooms, family room, large gourmet kitchen with breakfast room, library, loggia, and more. The second floor boasts most of the bedrooms, a gym, and a private office. The lower level boasts a 2,600 bottle wine cellar, billiards room, circular sitting area with big-screen television, card room, and a home theater. The estate also includes a swimming pool with outdoor living area, 6+ car garage, and numerous walkways.
*All photos from Finton Associates
CLICK HERE TO VIEW MORE PICTURES OF THE HOME
(click Projects, then "Completed". It is the 32nd home down)
CLICK HERE TO SEE THE HOME IN BIRD'S EYE