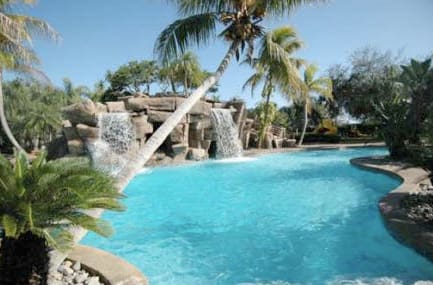 Baseball great Cecil Fielder's former mansion sold for $1,165,000 at auction on Thursday, May 27th. The estate, which is the largest in Brevard County, was purchased by Cecil for $3,750,000 back in 1995. So, I say that the new owner just got quite the steal! The home is located at 700 Jordan Blass Drive in the Suntree Country Club in Melbourne, FL. Before the auction took place, it was listed for a very reasonable $3,495,000, but failed to sell.  The 25,000 square foot, 50-room mansion has a breathtaking 2-story foyer with marble floors and a spectacular floating staircase. There is also a 2-story great room with wrap-around upper balcony , 8 bedrooms, 10 bathrooms, full basketball and tennis courts, a home theater, an arts and crafts room, a model train room, a 4,500 square foot guest house, a separate apartment, an 8,000 bottle wine cellar, and a large swimming pool.
HERE IS A VIDEO TOUR OF THE HOME
About 50 people gathered in the home's family room for the auction, but there were only 6 registered buyers. The auction lasted 20 minutes .
HERE IS A LOOK AT THE AUCTION