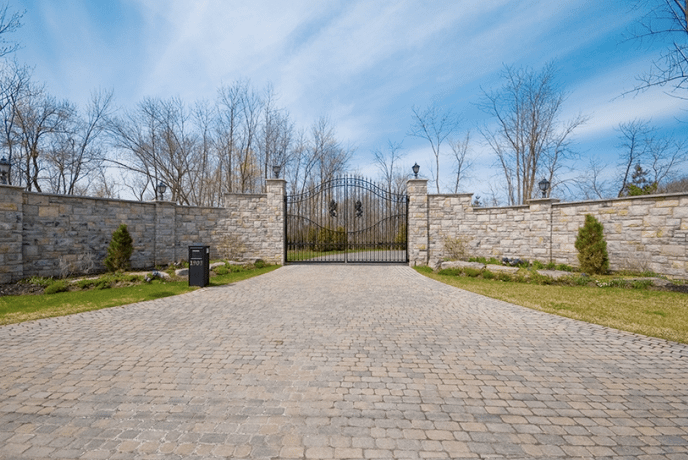 I'm so excited, because I have been DYING to know more about this home ever since I seen it while looking on Bing Maps. And what do you know? It just went on the market!! So, as you see, 3 massive mansions have hit the market in Canada in less than a week (2 in Bridle Path and this one). Pretty amazing, huh? This 41,684 square foot mega mansion is located at 1903 Chemin Bord-du-lac in Montreal, Quebec, Canada. It was built in 2004 and is situated on the shores of Deux Montagnes Lake (or Lake of Two Mountains). It boasts 9 bedrooms, 9 full and 5 half bathrooms, a massive 2-story foyer with gorgeous double staircase, a library, game room, playroom, gym, nanny suite, wine cellar, an indoor swimming pool, a subterranean garage, and much much more. It is listed at $27,000,000, which is exceptionally reasonable. I absolutely love everything about this home. The exterior is breathtaking. What do you think?!
HERE ARE THE LISTING DETAILS:
The building consists "of a main body" and Two Wings. The main body features an elevator, a vast den facing the lake and the monumental staircase leading to the first floor.

On the ground floor, the Western wing accommodates the immense dining room, the den, the kitchen & the dinette, and a large pool | spa with sliding doors opening onto the terraces and the lake.

The Eastern wing houses an exceptional reception room with a separate entrance, a professional kitchen, a vast terrace, a garage, library, office, billiard room and the maid's rooms.

Immense tiered terraces go all the way down to the shore. Huge tiered terraces go all the way down to the shore. Multiple terraces create a very elegant belvedere on the lake.
Square footage broken down:
Living areas: 22,000 square feet
Garden level: 9,166 square feet
Ground floor | garage number one (1): 1,280 square feet
Garden level | garage number two (2): 4,099 square feet
Garage number three (3): 2,400 square feet
Interior pool & mechanical room: 3,759 square feet
Mechanical room: 1,380 square feet
Total areas: 44,084 square feet
Area – terraces and porches: 3,850 square feet