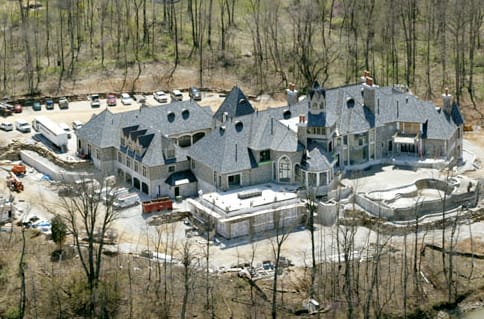 Whoa! You remember when I posted an aerial video of this home? Well, it is now for sale! The 40,000 square foot mega-mansion is the largest home in St. Charles County. It is located at 5 Lakeview Court in Lake Saint Louis, MO. It is listed at $14,900,000, which is more than $2 million less than what were anticipated to be the home's anticipated construction and land-acquisition costs. Darain is the founder of the now bankrupt US Fidelis. The Missouri attorney general and attorneys general in eleven other states are looking into allegations that Atkinson and his brother, Cory Atkinson, illegally profited off their failed auto-warranty business.
The European inspired mansion is situated on 6.7 acres of lakefront property and boasts 9 bedrooms, 14 bathrooms, a 2-story library, music room,beauty salon, meditation room, observation tower, bowling alley, indoor and outdoor swimming pools, safe room, an 8-car garage, movie theater, billiards room, gym, art studio, and much more.
* I had to remove the pictures because they are copyrighted by the photographer. He told me I could buy the license for them for $1,500. HAHA, what a JOKE! Good luck getting that much!