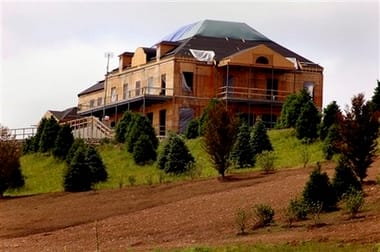 We all have those particular mansions or mega-mansions in mind. The ones that you salivate over the exterior (or just amazed at how big it is), but have no idea what the interior looks like. The ones that, no matter how hard you try, you cannot find 1 picture of the inside. Unfortunately for us the owners of these homes are most likely private people that don't show them off. Write a comment telling all of us what homes you are DYING to see the interior of.
Pictured above are the 3 homes that I'm dying to see the interior of.
Home #1 – James Jensen's 40,000 square foot mega-mansion, dubbed Villa Bellissima, in Sandy, UT.
Home #2 – John Breyo's 60,000 square foot super mansion in Saratoga Springs, NY.
Home #3 – Arnold Chase's 50,000 square foot mega-mansion in Avon, CT (what I most want to see is the 33,000 square foot basement!!)