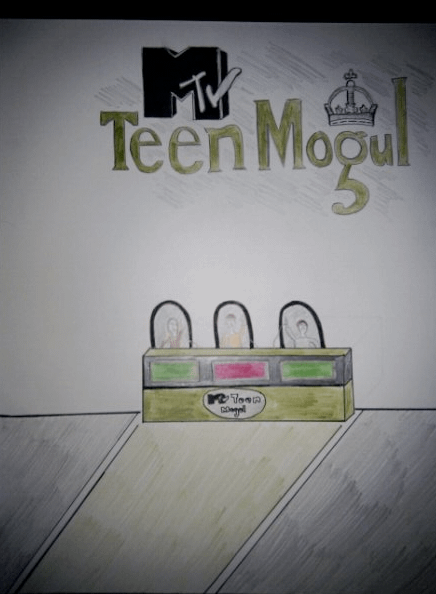 Hey guys. You remember I told you about Homes of the Rich working with TV Land's "How'd You Get So Rich" ? Well, I came up with an idea for a new MTV reality show (nothing like the crap that is on there now lol) and I forwarded it to the TV Land Producer. He said it was a great idea and so he forwarded it to one of his friends who works for a production company that produces shows for MTV. I have yet to hear from his friend , so wish me luck.
HERE IS A DESCRIPTION OF THE SHOW:
MTV's Teen Mogul – The contestants walk out onto the green strip. They present their ideas/inventions in front of the judges. The judges (show in picture) are each holding a buzzer. First impressions are everything, so the judges won't be able to ask the contestants about their inventions in the 1st round. The judges will either press their green buzzer or red buzzer. The one they press shows up on the screen in front of them. Green means that the judge wants the contestant to go through to the next round. Red means that the judge does not want the contestant to go through to the next round. Contestants need 2 greens to advance. In the next round, the contestants will get more in depth with their inventions and will work one on one with the judges on testing them out and whatnot. Then, the judges will narrow down the finalists to 3. Lastly, America will pick the winner who will receive $100,000 to help further their inventions/ideas and also the help of all 3 judges.
*Also, we will go to different cities around the country (like American Idol does) so that every teen has a chance at showing off their invention/idea.
So, what do you guys think? Would you watch it?