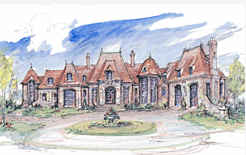 Luxury home builder Commorata & Berardi are building 3 exclusive mansions on Bayberry Drive in Saddle River, NJ. The homes just went back on the market.
11 Bayberry Drive – $7,900,000 – 6 beds, 7 baths
Reminiscent of an 18th century French country home, this house will sit on a stunning property in exceptional surroundings. This delightful French manor house is steeped in design history in keeping with its origins, offering large stone fireplaces, period floor tile, exposed beams, sumptuous paneled rooms with intricate ceilings, and inlaid parquet flooring. This authentic French manor promises to be one of the most significant homes built in Saddle River. Accentuating the beauty of this wonderfully designed home is the magnificent 2.5 acre property. The lot is perfectly flat, free of any wetlands, and is bordered by large stances of hardwood trees. Nestled at the end of Bayberry Drive in one of New Jerseys premier communities, this is an extremely attractive property surrounded by exceptionally strong housing stock.
9 Bayberry Drive – $6,900,000 – 6 beds, 6.5 baths
Utilizing the existing grades was the catalyst for the creation of this truly wonderfully designed French country manor. An arched stone drive-through will usher its residents to a private motor courtyard that can store a collection of exotic automobiles. The exterior will boast a stone veneer facade further adorned with aged stone trims, complemented by handmade weathered antique textured roof tile. This refreshing design is driven by an open floor plan. The main entry foyer is intersected by two groin vaulted galleries of single-depth rooms, affording the opportunity for sunlight to filter through the house in all directions. The first floor plays host to a movie theater, billiard room, and pub combined into one grand entertainment area, in addition to the rooms you would expect to see. We have captured the beauty of a classic home and incorporated all of the modern conveniences.
Bayberry Drive – $4,950,000 – 5 beds, 7 baths
This European country design is a source of inspiration for all who appreciate gracious, comfortable, and innovative living. This cottage design creates a sense of relaxation. It is an oasis of incomparable beauty with its open floor plan and volume ceilings. The introduction of aged beams, textured wall finishes, and wide plank flooring adds to the old-world charm. The exterior of the house will boast handmade weathered antique textured roof tile, complemented by a stone veneer facade and further adorned with aged stone trims. Our ambition was to create a house that would be a refreshing departure from what is routinely seen and built in the local market.