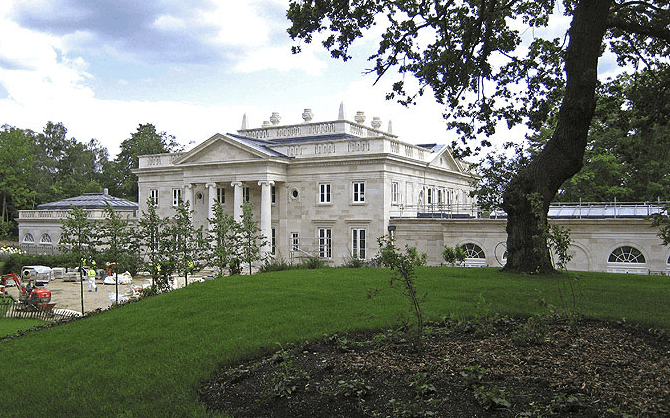 Robert Adam Architects is an award winning architecture firm run by five directors: Robert Adam, Nigel Anderson, Paul Hanvey, Hugh Petter and George Saumarez Smith. 
They have built some of the most stately and impressive custom estates throughout England. Most of these timeless estates are in excess of 20,000 square feet and include the very best in building materials; including imported stone, columns, and woodwork.
The home pictured above is an example of their past work. The home belongs to Russian billionaire Peter Aven, head of Alfa-Bank, the biggest private bank in Russia. Aven has spent tens of millions of pounds turning 'Ingliston House' into a 'KGB-proof' bolt-hole. There is a two-storey octagonal security house by the entrance, a £1.5 million secure wiring system and the 8.5-acre estate is surrounded by electronic fencing. The house includes a bomb-proof 'panic room' and systems to detect sound and motion. The 18-room house is beautiful and lavish. It is 29,000 sq ft, has six bedrooms, extra suites, a gym and a wing for the saltwater pool.
CLICK HERE FOR MORE PICTURES OF PETER AVEN'S MANSION
CLICK HERE TO SEE PETER AVEN'S MANSION ON VIRTUAL GLOBETROTTING
CLICK HERE FOR AN ARTICLE ON THE MANSION
CLICK HERE TO SEE MORE RESIDENTIAL MASTERPIECES FROM ROBERT ADAM ARCHITECTS