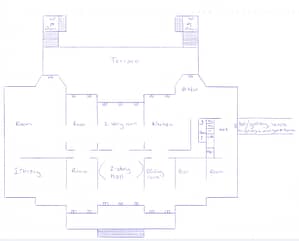 Michael again. What do you think about this one?
Supposed to be a very modern house. The floor plan takes some inspiration from a house in NY, which was posted here some time ago. That house is more classical. I just took the plan and changed it.
2-story (I was thinking 3, but not sure) grand foyer with two stairs, behind these are two closets. To the left a large room and a library. To the right a dining room, bar and a smaller sitting room. You also have a 2-story room, a second room and a large multi-purpose room, can be gallery, ballroom and used for much more. Large kitchen with breakfast corner and a smaller family room. A hall with coat room and half bath, and from here you can access the long gallery to the second building (not yet planned) with garages and guest rooms with baths.
Second stairs takes you to all levels, and there is an elevator also.
In a modern house, I like the idea with little doors between the rooms. What do you think about this?