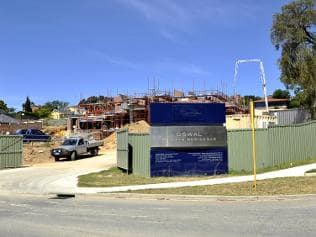 Just when I thought the building of "Mega Mansions" has slowed down, I stumbled upon this article. A wealthy couple is building the "Taj Mahal" of Australia in a ritzy section of Perth.
Here is an excerpt from the article:
Perth's Taj-on-Swan mega-mansion will be a tourist drawcard for WA when complete, with tour operators set to add the massive Peppermint Grove pad to their itineraries.

"When Rose and Lang had their house it was on a lot of itineraries, so this one will be too," Mr Moss said.

"The residents probably won't be too happy, but at the end of the day it's a tourist attraction."

The house is being built by WA billionaires Pankaj and Radhika Oswal, who are originally from New Delhi, on a block 12 times bigger than average.

Western suburbs real estate agent William Porteous said the Oswals' home will be the most expensive in the country when finished.

"It's said to be worth around $70 million, but you never know until you sell it," he said.

The Oswals' house, which has been a hive of activity this year, is two years away from completion. It is set to be the biggest in the country on the most expensive block, which is alone worth $22.7 million.

The house will have a gymnasium the size of a regular Perth house, a beauty salon and an observatory.