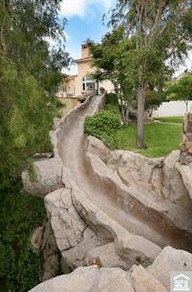 Tony here. I drive by this place about once every 2 weeks on the way to my buddy's and nearly cause an accident each time. And I'm ok with that.
Not the biggest, not the priciest but it still has just about everything I'd want. Gotta love waterslides and swim up bars with kegerators. Interior isn't stunning…but it's not dull either.
Sorry for the small pics. The website's flash so I had to find another site to nab these. For more pics in higher res go here.