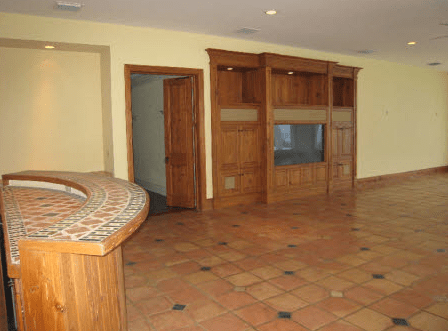 The 32,000 square foot former home of Generoso Pope, located at 1370 S Ocean Blvd in Manalapan, FL,  is back on the market for $16.9 million. 
Just a few months ago, motivational expert Peter S. Lowe and his wife, Tamara A. Lowe, sold 1370 South Ocean Boulevard for a recorded price of $22,458,406.34 to Germantown-Seneca Joint Venture, a Maryland general partnership, with a post office box address in St. Petersburg, Fla., according to the warranty deed. The Lowes are the founders of the Tampa-based GET MOTIVATED! seminar, described on their website as capable of "more inspirational firepower than a stick of dynamite." Best known as the former estate of the late Generoso Pope, founder and publisher of The National Enquirer tabloid, the eight bedroom-nineteen bathroom multi-level approx. 30,000-square-foot house is located on nearly three acres with 300-feet of ocean and waterway frontage, a 12-car garage, a stunning oceanfront grand salon, oceanfront gourmet kitchen with separate catering kitchen, movie theater, fitness center, games room, opulent office, marble basement including 12 car showcase garage and 2000 bottle wine cellar, guest house, tennis court with pavilion, tropical pool with grotto waterfalls and swim-up bar, formidable seawall with retractable stairs to beach, fully accessorized dock to accommodate motor yachts to 200′, is currently assessed at $22.493 million, according to the property appraiser's records.
 Five years ago Mr. and Mrs. Lowe bought the house for $22.4 million from well known mansion developer Frank McKinney, through his company Venture Concepts International. The Lowes financed the purchase with two Bank of America mortgages totaling $18 million. In April 2005 Bank of America extended the couple an additional $100,000 revolving credit line, modified in January 2007 to $3.4 million. Last July the Lowes satisfied a $2 million IRS lien on the property, filed in 2007. Adding to the house's provenance, Mr. McKinney bought and sold the property twice. In 1999 he paid $15 million to Lois Pope, Mr. Pope's widow and third wife, who had owned the house since the early 1970s. Then, after an extensive renovation, he sold it to software tycoon Daniel Gittleman in 2000 for $27.5 million, only to buy it back from one of Mr. Gittleman's companies four years later for $19 million. Then, he sold it to the Lowes.