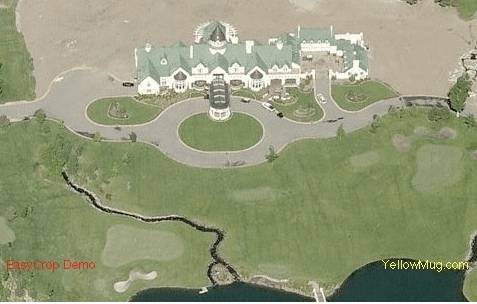 Picture #1 – This mansion is located at 36 Stony Brook Drive in Saratoga Springs, NY. It is the 2nd largest residence in Saratoga Springs after John Breyo's massive 60,000 square foot behemoth. This house contains 7 bedrooms, 11.5 bathrooms, and contains 22,209 square feet of living space.
Picture #2 – This amazing 7 bedroom, 10 bathroom mansion is located at 970 Rock Creek Road in Bryn Mawr, PA. It contains 17,658 square feet of living space and includes a side motor court, a swimming pool with pool house, and a tennis court.
Picture #3 – The massive lakefront mansion (on the right hand side in the picture) is located at 1270 Club Cove Drive in Greensboro, GA. Unfortunately, the home does not have a bird's eye view and there is no information on its square footage. The home has 7 bedrooms, 8 full and 3 half bathrooms, 2 boat docks, multi-level terraces, infinity edge swimming pool, 3 bars, barbecue pavilion, and a massive trophy room. It is listed at $13,000,000.
Picture#4 – This 25,942 square foot mansion is located at 6001 Talbot Lane in Reno, NV. It has 6 bedrooms, 7.5 bathrooms, and has its own private lake.