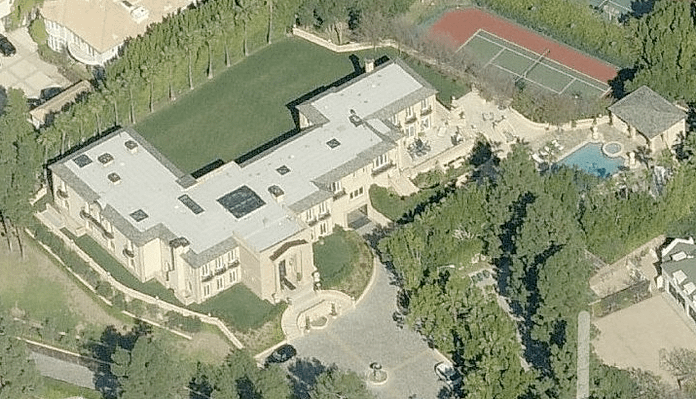 Picture #1 – This huge mansion under construction is located right next to Lionel Richie's house. It contains a swimming pool with pool house and a tennis court. If anyone knows any more info on this home, please contact me.
Picture #2 – These two mansions are being built on Skyridge and Shoreridge drive in Newport Beach, CA. The tuscan style mansion on the right (1st picture) contains a circular motor court, separate guest house, and a subterranean garage.
Picture #3 – This is the home of successful entrepreneur and author Ron Sturgeon. It is located at 4600 Stafford Drive in Colleyville, TX. He made his fortune from auto salvage and now owns DFW Elite Auto Rental. His 14,000 square foot mansion features a large garage and a 1,000 square foot 2-story library that is filled with toy cars. His home was featured in an episode of Pet Palaces on HGTV.
Pictures #4,5
– All of these homes were built by Waterford Custom Homes. The homes are located on Sugarland Road in Herndon, VA. The first home belongs to the owners of
Waterford Custom Homes
. The owners, Michael Iacovacci and Debra King, built the 14,000 square foot mansion has a showcase for future clients. Check out their website for floorplans of the homes.
Pictures #6,7 – This 20,000 square foot mansion is located at 1227 Osowaw Blvd in Spring Hill, FL. It is owned by Peter and Nicole Napolitano. The ground level is a massive 8,000+ square foot garage. There is a huge staircase that leads to 2nd floor, which is the living space. This space is 8,800 square feet an contains 5 bedrooms, a wine cellar, and a 30×20 home theater. The grounds of the home include a bridge, two tennis courts, and a guest house.
Picture #8 – This newly built mansion is located on Laurel Lane in Beverly Hills, CA. The home contains a tennis court and a swimming pool with pool house. It is located right next to Leonard Ross' mega-mansion that was once listed for $165 million.