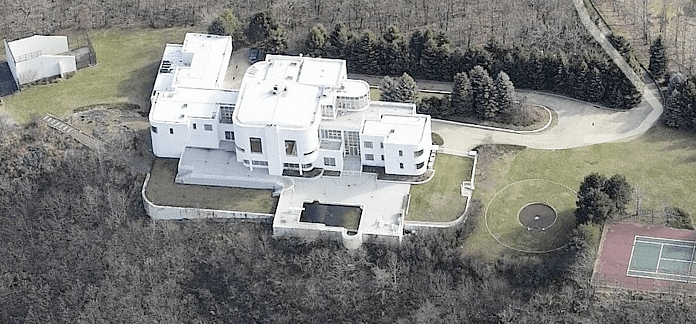 Pictures #1,2 – This massive mansion is being constructed at 5400 Pontiac Trail in West Bloomfield, MI. It is being built by Alon Kaufman, the founder of HoMedics, the leading global manufacturer of home massage, relaxation, and wellness products. This waterfront property is located right next to the Upper Straits Lake. The tudor style mega-mansion contains an unbelievable 34,349 square feet. It is valued at $7,040,000.
Pictures #3,4 – This palatial waterfront mansion contains 10,107 square feet that includes 5 bedrooms and 7.5 bathrooms. It is located at 3717 Wards Point Drive in West Bloomfield, MI. The home is situated on a gorgeous peninsula style plot and contains a swimming pool and a 4-car garage. It is valued at $2,489,000.
Picture #5 – This ultra modern mansion is located at 3320 Three Lakes Lane in Orchard Lake Village, MI. The 14,500 square foot mansion contains 6 bedrooms, 11 bathrooms, and is valued at $5,400,000.
Pictures #6,7 – These three mansions are located on Trillium Court in West Bloomfield, MI. They all contain circular motor courts and are located on Upper Straits Lake.
Pictures #8,9 – This mediterranean style mega-mansion is located on Red Rock Lane in Flower Mound, TX. The home has a motor court, its own lake, a tennis court, and a mosaic tiled swimming pool with pool house.
Picture #10 – This unique modern estate is owned by superstar rapper Akon. It is located at 320 Wilderlake Court NW in Atlanta, GA. The estate, which looks like it is spread out over multiple buildings, has 14,994 square feet. The modern interior features marble floors, a stainless steel kitchen, 2 baby grand pianos, touch motion controlled rooms, 10 bedrooms, 9.5 bathrooms, an indoor lap pool, and a basketball court. The home is valued at $4,311,500.
Pictures #11,12 – This is the mansion of record producer and rapper Swizz Beatz. It is located at 6 France Drive in Pomona, NY. The 14,109 square foot mansion was built in 1988 and bought by Swizz for $1,969,000. This modern home contains 7 bedrooms, 6 bathrooms, a swimming pool, a racquetball court, and a basketball court.