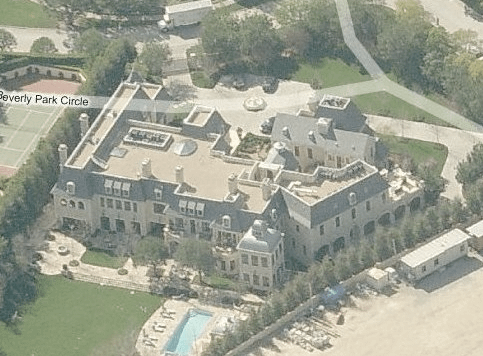 Picture #1 – This Victorian-style mansion is located off of N. Long Beach Blvd in Loveladies, NJ. It has an expansive garden area in the front as well as a swimming pool and pool house. The mansion is one of the largest oceanfront homes on the Jersey Shore.
Picture #2 – This mega-mansion is located at the end of Twins Brook Road in Saddle River, NJ. It is one of the largest homes under construction in Northern New Jersey
Pictures #3,4 – This recently completed enormous French Normandy mega-mansion is located on Beverly Park Circle in the exclusive gated community of Beverly Park in Beverly Hills, CA. It was designed by Richard Landry. It contains a whopping 42,000 square feet of living space. It has a 6-car garage, an amazing gourmet kitchen, a dining room with wine room, a 15+ seat home theater, a gym, and much much more.
CLICK HERE to see more photos of this spectacular home
(it is under "completed projects", and is the last home on the page (French Normandy))